Who We Are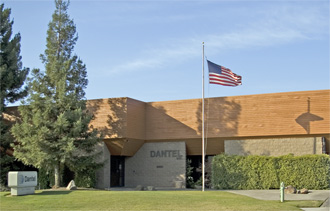 We are a privately held company, veteran owned and veteran managed, located in an enterprise zone in Fresno CA. We have been around for a while! Dantel started serving the telecommunications industry in 1971. Our original alarm monitoring solution, Dantel's 460 ACS, continues to provide alarm monitoring, control and mediation for a variety of network alarm applications worldwide.
Dantel does not leave its customers with a "stranded investment." For example, our 460 ACS can be upgraded to work on TCP/IP networks, by utilizing one of several newer solutions offered by Dantel. In fact, many of our long-time customers will be familiar with our Status Monitor, Smart Block and Classic PointMaster. These products may be replaced cost effectively with our PointMaster Eagle and/or VisionMaster software.
Dantel can assist you from the beginning to the end of your design process, from detail engineering to turn-up services.
Who We Serve
For over 35 plus years, we have developed and delivered dependable and innovative solutions to companies with communication networks of all sizes. Our customers include AT&T, AT&T Mobility, CenturyLink, Verizon, Frontier Communications, Sprint, and Level 3 Communications as well as the Independent Telephone Companies, Telecommunication Cooperatives, Internet Service Providers, Cable Operators, Power Utility Companies, Rail Roads, Government Agencies, and the U.S. Military. Additionally Dantel has entered into several OEM relationships in the past few years.
Our Products
As networks increased in complexity, Dantel reacted in the 90's with the launch of its 2nd generation remote monitoring appliance, the PointMaster Eagle, a high alarm density appliance ideally suited for Central Offices. In the past five years, we have introduced our 3rd generation remote IP centric appliances under the WebMon family of products along with the release of our newest network management software platform, VisionMaster CS.
Our remote solutions offer network operators cost effective options for the remote monitoring of critical infrastructure in Central Offices, Telecom Huts, Controlled Environmental Vaults, Cell Sites, Microwave Towers, Telecom's Outside Plant Cabinets and other outside plant remote facilities.
Our products may be used for a variety of applications such as the remote monitoring of network elements, battery capacity and power, environmental monitoring, tower light monitoring, and intrusion.
We continue to lead our industry with innovative features such as the incorporation of Microsoft® .Net technology in our newest network management platform VisionMasterCS, cellular transmission of data and video, decision-driven inputs, analog and discrete, arithmetic and Boolean, and the transport of alarms and data via an optional fiber optic Ethernet interface.
Our Quality
It is our business goal to design, manufacture and deliver defect-free products on time that meet and exceed our customers' expectations. Over the years, Dantel has received recognition and awards from various telecommunication companies for our supplier quality programs. Our hardware products built with industrial grade components and built to last!
Design/Manufacturing
GR-63-CORE Network Equipment-Building Systems (NEBS) requirements: Physical protection
GR-78-CORE Generic Requirements for the Physical Design and Manufacture of Telecommunications Products and Equipment
GR-1089-CORE Electromagnetic Compatibility and Electrical Safety – GenericCriteria for Network Telecommunications Equipment
EN3000386 European Union CE Marking for Electromagnetic Compatibility
IPC-A-610 Acceptance of Electronic Assemblies (Class 2)
IPC-A-600 Acceptability of Printed Board
Safety
UL-94V Tests for Flammability of Plastic Materials for Parts in devices andAppliances
CSA 950/UL 1950 Product Safety Standard ( Canada & USA )
EN60950 Safety Information Technology Equipment (For Europe)
top