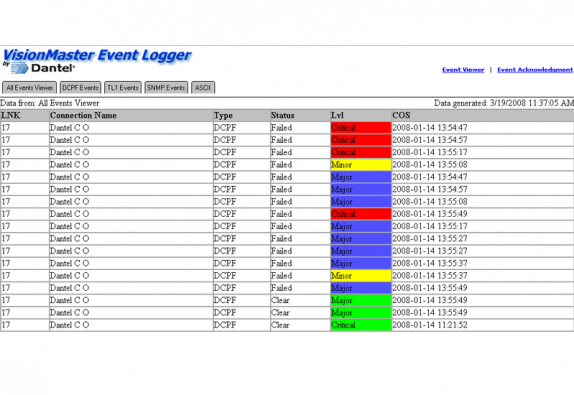 Dantel's VisionMaster is a Windows-based event surveillance, monitoring and management solution that provides intelligent event viewing and notification of critical network effecting occurrences. Compatible with Windows NT, Windows 2000 and Windows XP, VisionMaster can be virtually positioned anywhere in your network. Whether an a asynchronous or TCP/IP network, VisionMaster with allows you to instantly create an effective and cost effective event monitoring structure, providing critical visibility of your network's health.
VisionMaster provides the ability to address a variety of applications including Micro-NOC for centralized surveillance, Mediation for concentrating and reporting event upstream, and Local for a clear view of network trouble. VisionMaster interfaces virtually any Network Element that reports events in SNMP, TL1 or ASCII protocols including Dantel PointMaster Eagle, RemoteMaster, 460 ACS, and WebMon product lines. VisionMaster also provides a provisioning utility for managing PointMaster Eagles and RemoteMaster and remote centrally located VisionMasters.
How does VisionMaster improve QoS and benefit your business?
Customized event logging and viewing for greater versatility
Centralized provisioning for ease of operation
Network Element monitoring for greater network reliability
Multiple protocols for customized communication with equipment
Paging and email for faster notification of network-affecting events
History archiving for improved data reliability
Database and configuration tools for dependable data management
Standalone operation for far-ranging adaptability
Features
TL1, version 3 and 5, inbound and outbound
SNMP, version 1 and 2c, inbound
DCPF and ASCII, inbound
216 sessions total, IP protocols SNMP, TL1, DCPF and ASCII
TACACS+ security
Sort by point number, description, CoS, connection and priority
Alarms filtered by priority
Mask/hide alarms
Ping Network Element monitoring
Multiple serial polling
Email notification
Page notification, alpha/numeric
Communication failure notification
Local visual and audible annunciation
Local .wav file annunciation
Import/export and upload/download common device database files
Edit databases remotely
Auto-run, load last database, begin polling
Email notification
Page notification, alpha/numeric
Communication failure notification
Web browser option
History Log for all activity
Date/time stamping
Online help
Operates stand-alone or reports to a Network Operation Center
Support for legacy Dantel devices
Specifications
Minimum Requirements
450 MHz Pentium III preferred, or equivalent Celeron or AMD processor
75 MB hard drive space
1 GB of RAM
2X CD-ROM
10 Base-T network connection
SVGA video display, at a resolution of 600 X 800 pixels, 8-bit color
Mouse or other pointing device
Windows XP, 2003, 2000 and NT compatible
Recommended Requirements
1 GHz Pentium III preferred, or equivalent Celeron or AMD processor
4 GB hard drive space
2 GB of RAM
4X CD-ROM or CD/DVD-R writer
10/100 Base-T or 10/100/1000 Base-T network connection
SVGA video display, at a resolution of 1024 X 768 pixels, 16-bit color
Mouse or other pointing device
Windows XP, 2003, 2000 and NT compatible
VisionMaster Application
Product Documentation