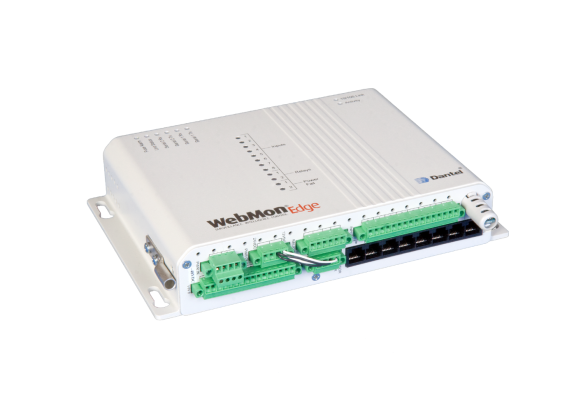 Technology at work for you
CONNECTING YOUR BUSINESS TO THE TECHNOLOGY RESOURCES YOU NEED
The WebMon Edge ESP is an intelligent, alarm monitoring and surveillance appliance that combines telemetric, transport and security capabilities into a single platform for operation in any network. The design of the Edge "ESP" provides the flexibility to address any number of sensory driven applications in the harshest of environments. It monitors virtually any type of sensory input with expanded remote sensor capabilities.
Overview
WebMon alerts and alarm data are highly detailed. Each plain English data string includes device failure ID, description, location and site specific parameters. Alarms can be set to any one of four severity levels: Critical, Major, Minor and Status. Each alarm has an accurate time and date stamp stored in the event history log.
Flexible solutions for your business needs
USER CONFIGURATION IS THE KEY TO CUSTOMIZATION.
USER DEFINED: DERIVED ALARMS, CONTROL RESPONSE, SCHEDULE
The WebMon Edge ESP allows the end user to create customized alarms based on multiple alarm inputs. A derived alarm is beneficial when a combination of problems happening at once is more critical than any one problem happening by itself. For example while a generator failure or a low backup battery may not be a critical alarm by itself, it does become critical if both happen simultaneously. The Edge can be configured to treat these alarms as Minor when they occur separately but then as a Critical when they happen at the same time.
Derived alarms are user-configured through simple Boolean equations using AND/OR logic. Derived alarms can combine alarms from your equipment anywhere in your network.
WebMon Hub
PORT EXPANSION—WEBMON EDGE & MATRIX
SENSOR AND/OR ANALOG PORTS
64 PORTS PER HUB: RJ-12 OR PUSH-IN TYPE PHOENIX CONNECTOR
SCALABLE IN 8 PORT INCREMENTS
TWO HUBS PER WEBMON—MAX
Sensing
Environmental Sensing, Measurement and Control
TELECOMMUNICATION NETWORKS
CELL SITES
REMOTE EQUIPMENT CABINETS
RAILROAD REMOTE SITES
PIPE LINES
DATA CENTERS
POWER UTILITIES
FUEL CELL FACILITIES
LEGACY GENERATING STATIONS
WIND TURBINE POWER STATIONS
OIL & GAS EXPLORATION
WATER RESOURCE SECURITY
SCADA NETWORKS
EXPLOSIVE GAS LEAKAGE DETECTION
BATTERY MONITORING
"BAD" CELL IDENTIFICATION
CELL BALANCE
AUTO RELAY CONTROL
THERMAL RUNAWAY PROTECTION
POWER UTILIZATION EFFICIENCY (PUE)
Sensor
Expandable Sensor Network
CONNECTING YOUR BUSINESS TO THE TECHNOLOGY RESOURCES YOU NEED
The WebMon Hub expands the WebMon Edge connectivity in a cost effective manner by concentrating environmental data such as voltage, current or endpoint sensor banks into a seamless infrastructure protection grid. The vital sensory measurements and enhanced visibility of your Datacenter's critical environmental values ensures that the Power Utilization Efficiency (PUE) of your green projects is constantly monitored 24/7 for reduced operating expenses and increased system uptime.
Built to industrial temperature range, the Hub is equipped with a wiring harness and can be wall mounted or rack mounted, vertically or horizontally, with a special rack adapter. Sensor and universal alarm interface is provided via RJ-12 and push-in type connectors.
Flexible solutions for your business needs
USER CONFIGURATION IS THE KEY TO CUSTOMIZATION.
USER SELECT: SENSORS – SCALE – EVENTS
Utilizing MODBUS protocol over RS-485 interface, the WebMon Hub can communicate with a WebMon Edge or Matrix for up to 4000 ft, making small or large scale environmental data collection a flexible option from a single device. Each Hub can support up to 64 analog or sensor inputs. Up to 2 Hubs could be daisy-chained for a maximum port expansion density of 128, appreciably reducing per port cost due to economy of scale.
Dantel's unsurpassed offering of small to large scale industrial grade environmental data collection and control solutions has been an industry main stay for more than 40 years. Dantel offers end-to-end seamless integration of devices at a cost well below alternative methods.
Solutions
Custom Solutions
PUE AND POWER MONITORING
COOLING SYSTEM EFFICIENCY
AC POWER EFFICIENCY
DC PLANT POWER EFFICIENCY
ENVIRONMENTAL MONITORING
AMBIENT TEMPERTAURE
SURFACE TEMPERATURE
RELATIVE HUMIDITY
LIQUID SPILL
GAS LEAKAGE
WEATHER
Diversity
Sensor Diversity
BASIC ENVIRONMENTAL SENSORS
COOLING UNIT TEMPERTURE
HUMDITY MEASUREMENTS
AMBIENT TEMPERATURE SENSOR
SURFACE TEMPERATURE SENSOR
BATTERY CASING TEMPERATURE SENSOR
AC VOLTAGE SENSOR
AC POWER MEASUREMENTS
DC PLANT POWER MEASUREMENTS
LOW PRESSURE DETECTION
COMBUSTIBLE GAS DETECTION SENSORS
METHANE AND LP GAS (HC)
ETHANOL AND ISO-BUTANE
HYDROGEN (H2)
TOXIC GAS DETECTION SENSORS
HYDROGEN SULFIDE (H2S)
CARBON MONOXIDE (CO)
REFERIGERANT (CFC) SENSOR