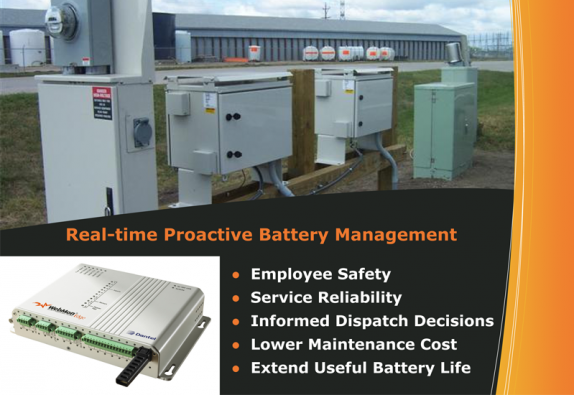 Battery Monitoring System
Employee Safety
Service Reliability
Informed dispatch decisions
Lower Maintenance Cost
Extend Useful Battery Life
Active Battery Monitoring
Minimize battery plant related service outages and protect your capital investment with Active Battery Monitoring (ABM) now integrated into WebMon®. Unlike mid-point battery monitoring, Dantel's ABM can detect anomalous conditions at the cell/unit level and not only send threat alerts but automatically respond to unsafe conditions such as thermal runaway by neutralizing the offending source.
Dantel, a trusted name in network management solutions, has developed the ABM algorithm into its WebMon product line to help network carriers prolong the life of their battery plant and also to comply with Katrina Order (FCC Ruling 47 CFR part 12) by monitoring, detecting and preventing battery plant failures.
Features
Early Warning of Common Battery Ailments:
Excessive Heat Build-up
Electrolyte Dryout
Plate Sulfation
Plate Whisker Shorts
Plate Separation
Specific Gravity Changes
Lethal and Explosive Gas Build-Up
Intelligent alerts and controls based on:
Inter-cell/string Variables Differentiation
Internal Battery Temperature Comparisons
Ambient Temperature
Lethal and Explosive Gas Detection
Auto algorithms based on:
Inter-Cell/String Voltage Delta
Preset Temperature Cutoff Activation
Power/Current Determination
Sensors Included:
Ambient Temp/ Humidity Sensor
Battery String Temperature Sensor
Sensor Options:
Sensor Inputs: 8 to 136
Inter-cell/string voltage Inputs: 8 to 144
Battery Casing Temperature Sensor
Hydrogen Sulfide Sensor
Hydrogen Sensor
Network Interface:
Ethernet, Wireless, Wireline, Fiber
Local Craft Access
Input Power Options:
-48 VDC
24 VDC
12 VDC
110/220 VAC
Extended Operating Temperature:
NRTL Certification:
FCC, NEBS, CE
(Outside Plant) GR2834, GR2836
Mounting Options:
Wall mount (9"x 6"x 1.75")
Rack mount 1RU (1.75"x 19")
Output Control Option:
Auto cutoff relays (NO/NC): 2 to 60
Integrated IP Camera Support
Battery Health
WebMon monitors string temperature and voltage, environmental temperature, humidity, and optionally, cell temperature, voltage, and explosive gas. First alerts are communicated over wire-line, wireless or fiber at the first sign of cell parameter imbalance.
The WebMon real-time engine continuously performs measurements and analysis of key battery parameters resulting in early prediction of battery failure. A control relay automatically protects against thermal runaway and catastrophic battery failure.
Example: Typical 48 VDC string composed of four –12Volt Batteries. Voltage taps and temperature sensors monitor each 12 volt cell against standard threshold values and historical performance data. In addition, each set of cell parameters is continuously compared to other cells for minute voltage and temperature changes within the string. A "Derived Alarm" is declared by WebMon when a user-defined voltage and temperature difference or "delta" is detected within an individual cell or between any of the four cells within the string.
Highlights
SERVICE RELIABILITY
SAFETY
COST REDUCTION
GRAPHIC TRENDING ANALYSIS
TERMINAL SERVER CONNECTIVITY
BATTERY TEMP SURVEILLANCE
CELL VOLTAGE BALANCE & ALERTS
REMOTE MANAGEMENT
SENSOR OPTIONS
EXPANDABLE SENSOR HUB
REAL-TIME ALERTS
DERIVED ON-SITE CONTROLS
Product Documentation