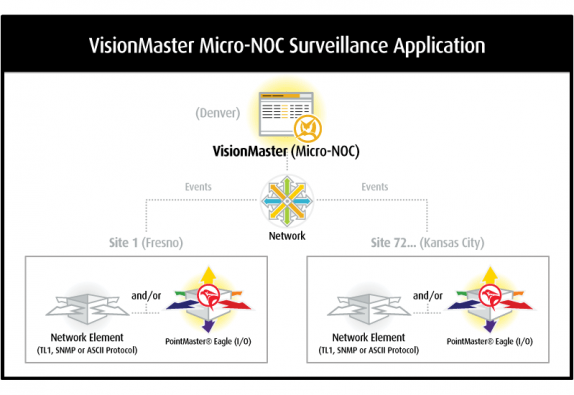 For more information on upgrades and pricing please contact:
Inside Sales @ 800-432-6835 Option 5
PointMaster Upgrade
Add features to your PointMaster Eagle. These features are as simple as remotely programming a new license key into your Eagle.
PM List-1 TL1 Protocol
PM List-2 SNMP Protocol
PM List-3 TL1/SNMP Protocol
PM List-4 TCP/IP
PM List-5 Web Browser Capability
PM List-6 Event Log
VisionMaster Upgrade
Add new features to your VisionMaster 2.X series product.
SNMP monitoring
TL1 monitoring
ASCII monitoring
Multiple TL1 alarm reporting (Upstream)
Email/Text paging notification
WebBrowser Interface
Local audible/visual notification
Remote provisioning and monitoring
Database create/edit/copy/transfer function
Increase Network Elements quantities
Services
Status Monitor/TL1 GPP database conversion to a VisionMaster database