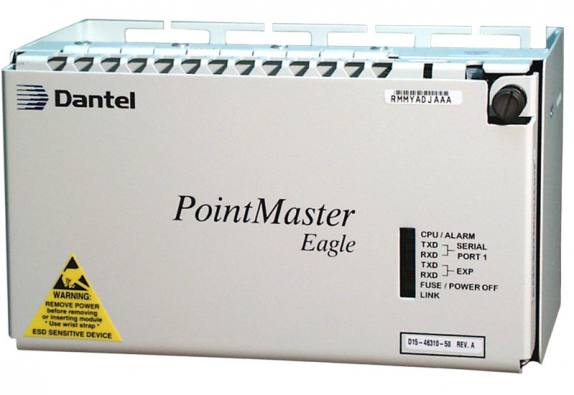 Dantel's PointMaster® Eagle is the premier communications network management system. The Eagle provides concentration, management, and reporting of Network Element (NE) events as well as environmental alarm status for a variety of industries and applications. The Eagle is designed to improve Quality of Service (QoS) by intelligently collecting and reporting mission critical information for our partners in the Telecom, Utility, Cable, Industrial, Wireless and ISP industries of all sizes.
The PointMaster® Eagle detects events, then converts and reports this information in any one of several protocols and interfaces to any existing centralized Network Operation Center (NOC), or Dantel's VisionMaster Micro-NOC (TM) Management System. The Eagle supports a Web Browser Interface for local and remote access to color-coded prioritized views of event status from any standard Web Browser. The Eagle operates in asynchronous (serial), dial-up and/or TCP/IP networks, positioning you to address your immediate and future network migration needs. The Eagle reports over individual ports and IP sessions or can report simultaneously to several host locations. The PointMaster® Eagle operates in a stand-alone application or as a point expander.
Select key features include TL1, DCP, DCPF, TABS, TBOS, DCM and SNMP, Multiple TL1/IP sessions, Multiple DCPF/IP sessions, Multiple SNMP/IP sessions, 64 to 256 scalable individually reversible alarm inputs, intrusion, fire, MUX, circuit switching and environmental discrete alarms, 4 to 32 scalable control outputs, and CLI and web browser interfaces.
Key Features
Five alarm/control configurations, 64/8, 128/4, 128/32, 192/16, 256/4
reversible alarm inputs
Alarm input rate filtering
Alarm input period filtering
Control output feedback reporting
4-level alarm-triggered control output
SNMP, TL1, DCP, DCPF, TABS, TBOS, DCM
NV/RAM memory module (optional)
Terminal Server
POST (Power-On Self Test)
FTP (File Transfer Protocol)
History log
CLI (Command Line Interface)
Browser-based user interface
64-character definable description field
15-character definable character prompt
System and provisioning password protection
Connectorized options
Alarm Types
Intrusion
Fire
MUX
Circuit switches
Environmental
System Specifications
Input Power
-18 VDC to -75 VDC
160 mA at -48 VDC nominal
Mechanical
Length:5.125″
Width: 8″
Height: 4.5″
Weight: 3 lbs
Mounting
19″ 0r 23″ rack
IDF or MDF
Wall
Environmental
Operating temperature range: 0C to +70C
Connections
10/100 Base-T
Direct
Connectorized
Compliance
NEBS Level 3 (NRTL)
CE Mark
UL/CSA
FCC
Stand Alone Application
Replacement Application
Product Documentation